---
---
1.12.2011. od 17:00 do 03:00 sata - Kim's Coffee, Zagreb, Petrova 21
---
---
Program 2011.

Resilience: Host Pat Mitchell (live from NY) - 11:00 AM NY / 8:00 AM LA

Pat Mitchell welcome and intro to first speaker

1. Gayle Tzemach Lemmon —Economic resilience of women…especially in post-conflictcountries
2. Jill Iscol— Changing the world throughsocial entrepreneurship
3. Tan Le (FROM LA) —Emotional& Entrepreneurial resilience of refugees
4. Gallup Global POLL & itsmeaning-- onstage interview, Pat asks KatieBell explain Global Women's Institute & live poll with 2 questions
5. Lamis Zein —Leader of Lebanese all-female bomb squad
6. Barbara Walters —Her professional and Personal resilience + rebound from failure(Interview with Pat)
7. Busisiwe Mkhumbuzi — Starting the conversation: South African Girls, Reclaimingtheir country
8. Morley (PERFORMANCE)

Relationships: Host Trevor Nielson (Live from LA) - 2:15 PM NY / 11:15 AM LA

Trevor Neilson welcome and intro to first speaker.

1. Shahira Amin— Women's relationship with power and the ongoing post-revolutionstruggles in the Middle East
2. Matt Petersen -Therelationship between people and Mother Nature. Will tell his story of coming tocare for the environment and women.
3. Laura TurnerSeydel (FROM NY) – Afuture where the planet can sustain 7 billion people with natural resourcesrunning out. What is our plan; some ideas on what we should do.
4. Rachel Simmons + Claire Sannini (FROM NY) —Teaching Young Girls the Fourth 'R": Relationships
5. Jennifer Siebel Newsom (FROM NY) —Relationship between Image and Reality: Women & Media
6. Dr. Noel Bairey Merz -Relationships to our hearts: keeping themhealthy
7. PERFORMANCE + Talk: Alan& Marilyn Bergman

ReBirth: Host Jane Fonda (live from NY) 5:00 PMEST / 2:00 PM PST

Iyeoka Okoawo PERFORMANCE

Jane Fonda welcome and intro to first speaker

1. Suzanne Braun Levine— ClimbingOut of the Void
2. Dr. Mehmet Oz —Discovering Your Untapped Potential After a Health Scare
3. Dr. Laura Carstensen (FROMLA) – The Positivity of Aging
4. Mary Catherine Bateson —Healthylongevity has created a new stage of life, Adulthood II
5. Dr. Michelle Warren — Myths ofMenopause
6. Surprise Guest
7. Girl Up PERFORMANCE
Girl UP Performers – Deanna Alexandra, Dominique Fishback, Monica Furman, Emily Rupp, Karen Vigo, Sophie Walker

ReImagine: Host Lisa Ling dinner in NYC 8:00 PM NY / 5:00 PM LA

Julia Easterlin PERFORMANCE

1. Dr.Piya Sorcar - TeachAIDS
2. Google girls (3) —(onstage together seated on stools)
- Shree Bose - (17-18 years) "AMPK andCisplatin Resistance" - improve ovarian cancer treatment for patients whenthey've built up a resistance to certain chemotherapy drugs.
- Naomi Shah (15-16 yrs.) "Air Pollution Impacts Lung Health of AsthmaPatients" - making changes to indoor environments that improve air qualitycould reduce people's reliance on asthma medications.
- Lauren Hodge (13-14 yrs.)"Decreasing Carcinogens" - the effect of different marinades on the level ofpotentially harmful carcinogens in grilled chicken.
3. Shamila Kohestani - As Captain& Founder of the first female soccer team in Afghanistan, Shamila will talkabout how soccer gave her freedom.
4. Home Girls – Ivy Naverette and ShaynaWelcher
5. Gloria Steinem (interviewed by Salamishah Shah) (FROM NY) Reimagine a World with True Gender Equality
6. TiffanyShlain —The hopefulness of ourconnected world.
Powered by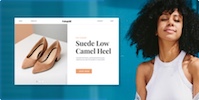 Create your own unique website with customizable templates.